Information on Dental Bridges
If you are missing a tooth, a permanent bridge can often be made to replace it. It should look and feel natural, without hooks or clasps, and stay in permanently, allowing totally normal function. When teeth are missing the remaining teeth begin to change position, and this can lead to numerous problems, including loss of more teeth.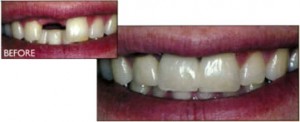 A fixed bridge will prevent teeth from shifting, and stabilize your bite. To have a bridge made, call the dental office so the doctor can evaluate the area and discuss specifics with you.
More about Dental Bridges
More about Dental Bridges
Contact Us
Romie Lane Dental Group
Soraya Cameron, DDS
770 E. Romie Lane
Salinas, CA 93901
(831) 424-3035